Macro en Close-up praktijkboek
Foto's van een reusachtige bloem. Een levensgrote vliegende wesp of een vlinder die sipt aan de nectar van een bloem. Dit soort beelden herken je vast. Zulke foto's maken is een ander verhaal. Het vereist techniek, kennis én kunde. Ondanks dat is macrofotografie een van de meest toegankelijke vormen van fotografie. Zonder dat je het weet, woon je in een heus fotoparadijs. In de ons 180-pagina's dikke boek Macro en Close-up dik boek vertellen we je hoe je in en om huis aan de slag de mooiste macro's en close-ups maakt. Als klap op de vuurpijl leer jij je keuken omtoveren tot een experimenteel fotografen lab.
Fotograferen in je tuin
In dit deel leer je dat je achtertuin een plek is waar je als fotograaf niet zomaar aan voorbij kunt gaan. De bloemen en insecten die je hier tegenkomt schitterend om vast te leggen.

Fotografie in huis
Bij fotograferen in huis komen vaak hele andere spelregels kijken.. We leggen je in dit deel uit hoe je werkt in de kleine ruimte, welke onderwerpen zich goed lenen om te fotografen en hoe je om gaat met weinig licht.

Jouw keuken als fotolab
Experimenten horen bij fotografie. Foto's van onderwerpen waarbij je niet weer hoe het uitgaat pakken, zoals meel, druppels of rook. Je leert in dit boek hoe je deze elementen kunt inzetten om je fotografie een creatieve touch te geven.

Nabewerking
We leren je ook nog bewerken van de foto's. Het is een vast onderdeel van jouw workflow dus gaan we hier niet zomaar aan voorbij. In een apart deel van dit boek leren we je een aantal bewerkingen.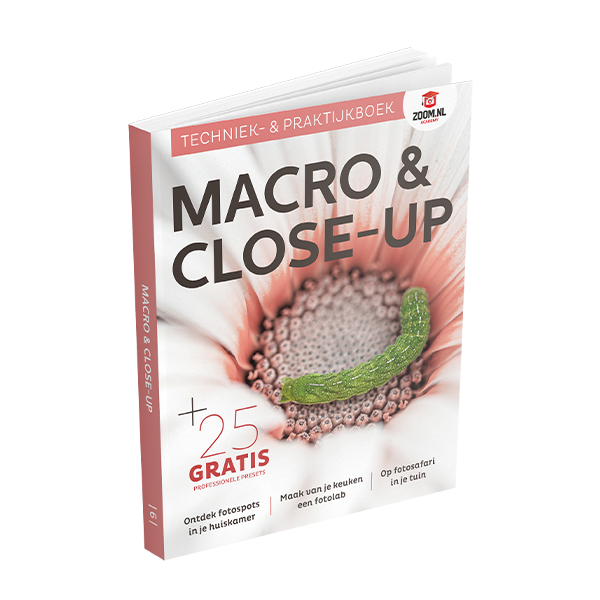 Krijg direct toegang tot alles van Zoom Academy
(70+ cursussen)