Lightroom 2023 (Encyclopedie)
Heb je altijd al willen werken in Lightroom Classic, maar wist je niet hoe je alle mogelijkheden kon leren toepassen? Of gebruik je het programma al, maar wil je ontdekken wat er allemaal nog meer mogelijk is?


De Lightroom Encyclopedie is een uitgebreid boek, de ultieme manier om alles uit Lightroom Classic te halen. Ontdek de panelen, volg de workflows stap-voor-stap en ga aan de slag met een preset om je foto met een muisklik te verbeteren.
Ontdek de basis
Of je nu Lightroom voor het eerst start of er al een tijd mee werkt: de basisbeginselen van foto's importeren, sorteren en voorzien van labels zijn voor iedereen handig om te weten.

Werken met presets
Met één muisklik je foto verbeteren, dat willen we toch allemaal weleens? Presets helpen je om tijd te besparen. Hoe je werkt met presets en waar je ze vindt, leer je in het uitgebreide hoofdstuk.

Alle panelen
Elk paneel in Lightroom Classic heeft specifieke functies om bepaalde onderdelen te bewerken. In dit boek vind je uitleg over elk paneel met erbij een handige workflow met een voorbeeldfoto om te oefenen.

Foto's exporteren
Als je foto helemaal naar je zin is, wil je hem misschien wel op een fotosite zetten of elders publiceren. Je leert hoe je Lightroom hiervoor het best instelt en welke plug-ins er zijn om je te helpen.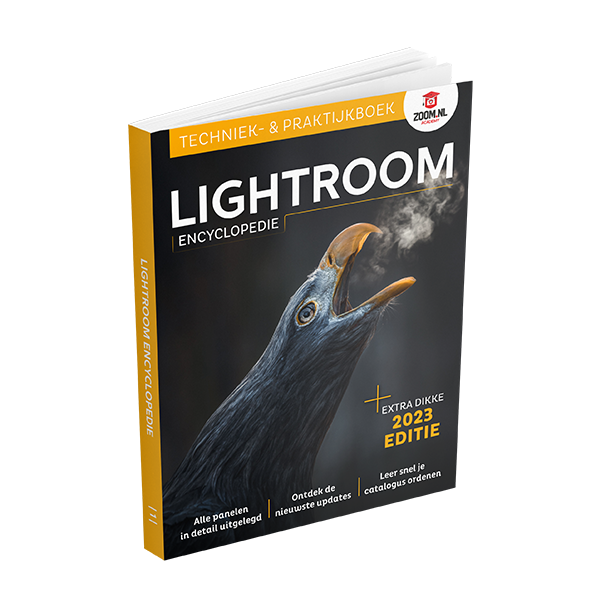 Krijg direct toegang tot alles van Zoom Academy
(70+ cursussen)